Discover Potsdam the most impressive and beautiful way. By Bike, Kayak and SUP.
Bike Tours on your own
Just rent a bike in one of our bicycle rental shops. Get a free map with our recommended bike tour through Potsdam. Like pearls on a necklet you will find all the famous sights, the beautiful gardens, the cozy neighborhoods on this tour.

Bicycle and cargobike rental center Potsdam Main Station
The advantage of this rental point is that you start very close to the city with the old market square the Nikolai Church and the City Palace.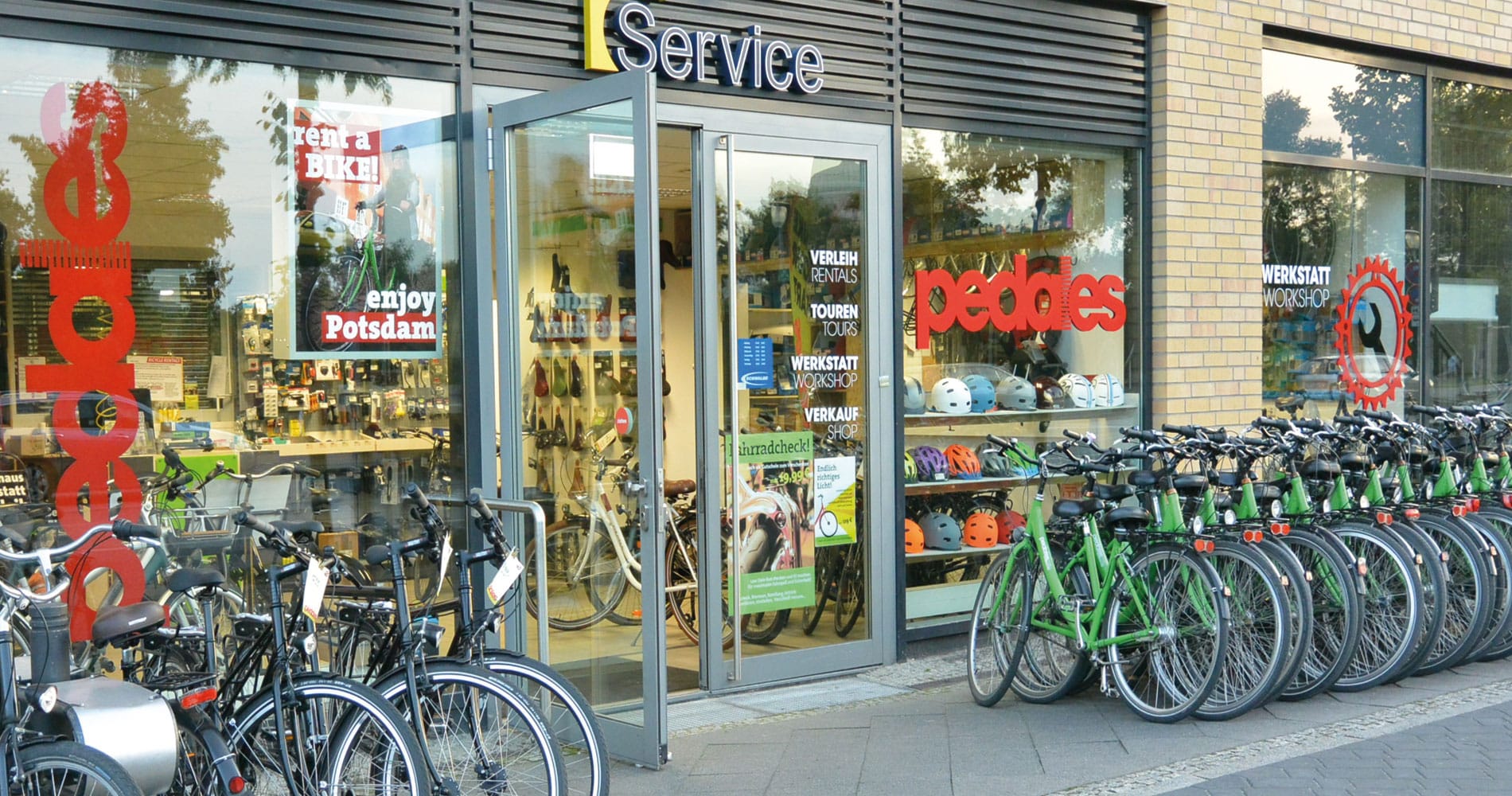 Monday-Saturday 9-18:30, Sunday 10-18:00 (Summerseason April 1. to Oct 31.)
public transport from Berlin S-Bahn S7 every 10 minutes, regional train RE 1 every 30 minutes
+49 (0) 331 887 199 17
From now on you can book a selection of our bikes directly here. Please bring your ID card or driver's license with you to the rental.
You don't have to reserve city bikes if you need less then 5 bikes. If you need more ore a cargo bike or electric bike it's recommendable to call us or to send us an e-mail.
Our classic Tour! Experience Potsdam the most comfortable and interesting way. For private groups at anytime on request. Palaces, Parks and the baroque old town! (4 hours / 20 km)
Anytime on request. A guided bike tour on the shoreline between Potsdam and Wannsee. Truman Villa, Bridge of the Spies, Peacock Island, House of the Wannsee Conference, Liebermann Villa (3 hours/20km)
Any time for groups by reservation. A guided bike tour for everybody who wants to enjoy the real beauty of Potsdam avoiding the mass tourism! (4 hours / 20km) (4 hours/20km)

Bike, kayak, canoe, SUP rental shop at Griebnitzsee train station
Griebnitzsee train station is a very stunning location to start your Potsdam adventure. We have all kinds of bicycles, kayaks and StandUpBoards for you.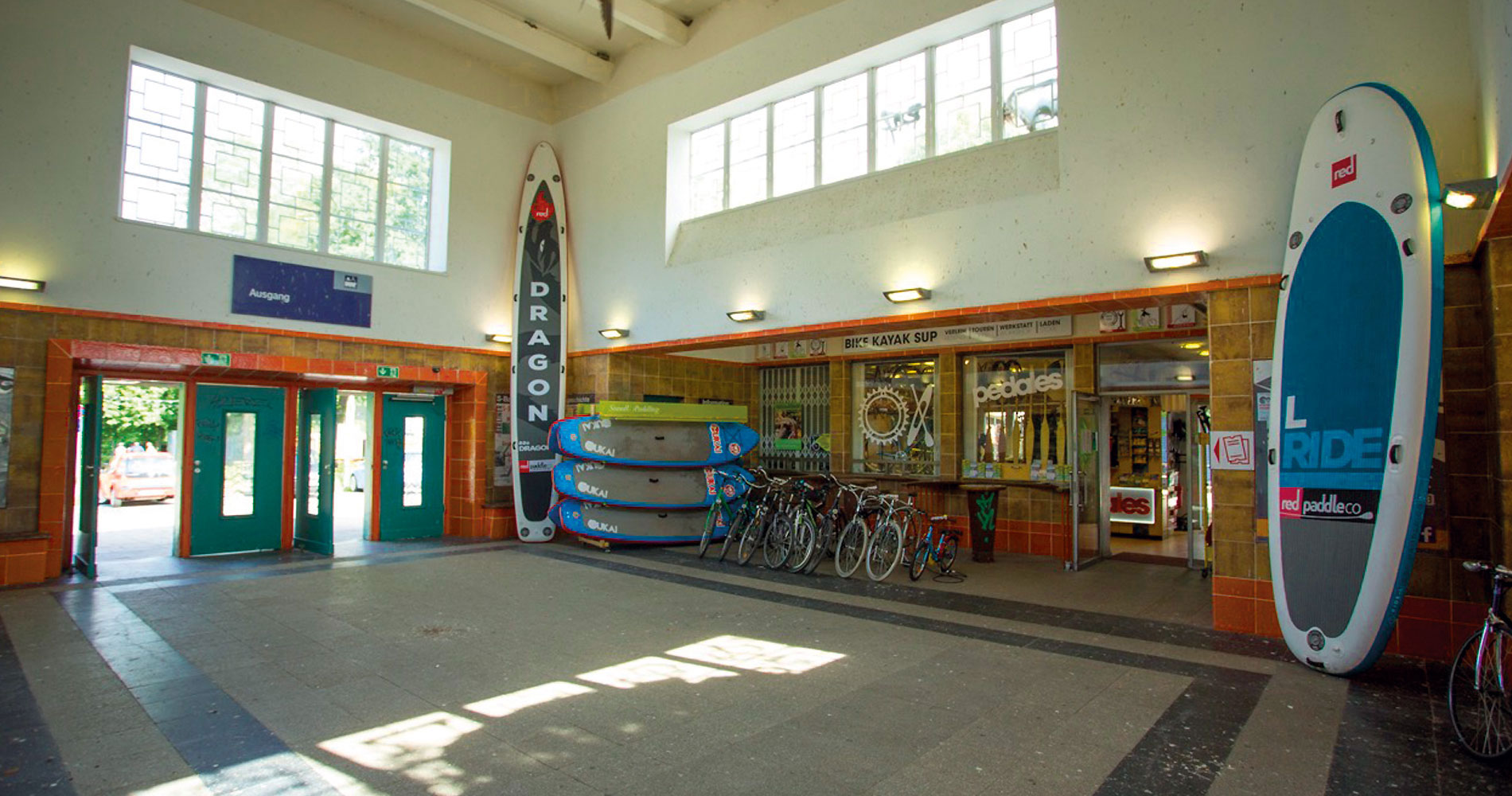 Daily 9-18.30 (Summerseason March 31. to Oct 31.)
Monday – Friday 9-18:00 (Winterseason)
public transport from Berlin S-Bahn S7 every 10 minutes
+49 (0) 331 7480057
Start your bike, kayak or SUP tour here close the former border between West Berlin and the GDR were Truman stayed during the Potsdam Treaty… where famous actors like Marlene Dietrich used to work and where world famous architects like Ludwig Mies van der Rohe had its first jobs. The bike tour through Potsdam leads you over the Glienicker Bridge (Bridge of spies) to the beauties of Potsdam. When you start here you see definitively more than any other Potsdam tourist.
Guided Kayak and SUP Tours
On Saturdays at 5 pm (from September 14. at 4 pm) and anytime on reservation. Guided kayak tour from Griebnitzsee to the Glienicke Bridge and back 3 hours / 7km